Kings County
Kettleman City
Kettleman City
Residential & Commercial Services
Please contact City of Kettleman City for all changes to service levels or special services 559-386-5866.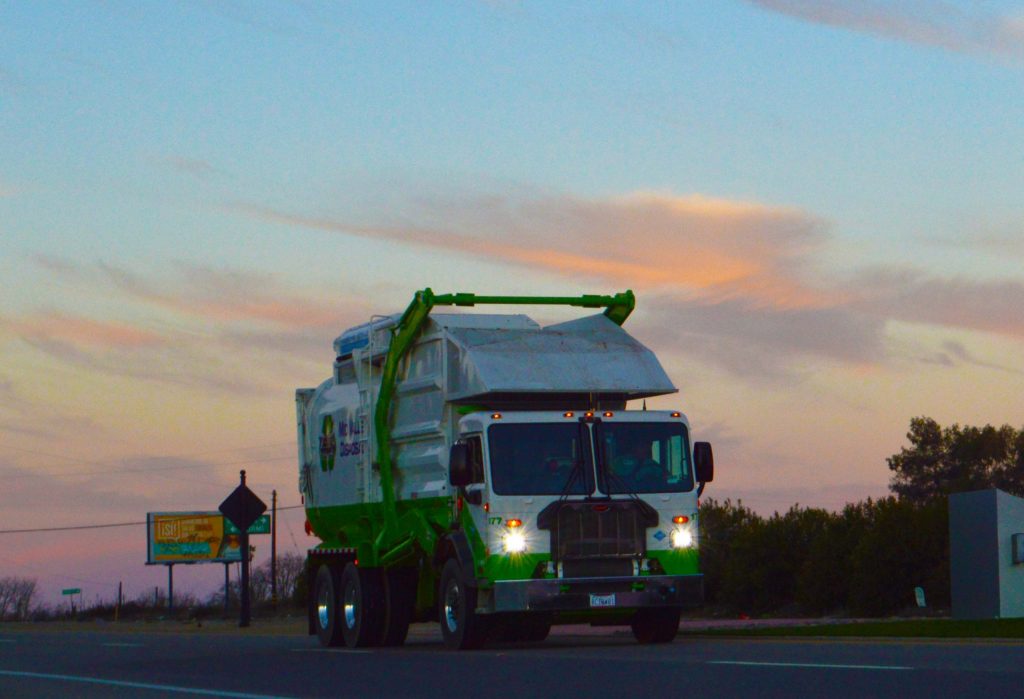 Collection Services
Residential Areas: 6:00am – 5:00pm. All containers must be curbside by 6:00am. To ensure pickup, set carts at least 3 feet apart, lids closed and must not be blocked by parked vehicles.
Commercial/Industrial Bins: 5:00am – 5:00pm. To ensure pickup, all containers must have clear access and lids must be closed.
Mid Valley Disposal is closed in observance of the following federal holidays: New Year's Day, Thanksgiving, and Christmas. If one of these holidays fall on Monday through Friday, collection services will be delayed one day the remainder of the week.
The TRASH container is for non-recyclable trash such as Styrofoam, clothes, shoes, plastic bags, bathroom waste, diapers, aluminum/tin foil, chip bags, candy bar wrappers, cigarette butts, disposable gloves, foam to-go containers and cups, juice pouches, packaging peanuts, palm fronds, pet waste, succulents and cacti, yucca leaves, 5-gallon buckets, hose/rope and other solid waste materials considered to be no longer of use.
The RECYCLING container is for the collection of commingled recyclables such as mixed paper clean/flat cardboard, aluminum & tin cans, glass jars & bottles, recyclable plastics #1 #2 # 5 bottles & containers. DO NOT PUT NO FOOD WASTE, LIQUIDS, ORGANICS, PACKAGING PEANUTS, PET WASTE, TRASH, OR YARD TRIMMINGS.
The ORGANICS container is for collection of green waste including plant matter, tree trimmings, and yard trimmings, breads & grains, untreated wood, pasta & rice, fruits, vegetables, eggs shells, nutshells, food soiled paper, soiled cardboard, cooked meat/poultry/fish. NO BUILDING MATERIALS; CACTI, SUCCULENTS, or YUCCA; CONCRETE; DIRT; PALM FRONDS; PET WASTE; SAND; STONES; TRASH; OR TREE TRIMMINGS (LARGER THAN 4 INCHES IN DIAMETER OR 4 FEET IN LENGTH).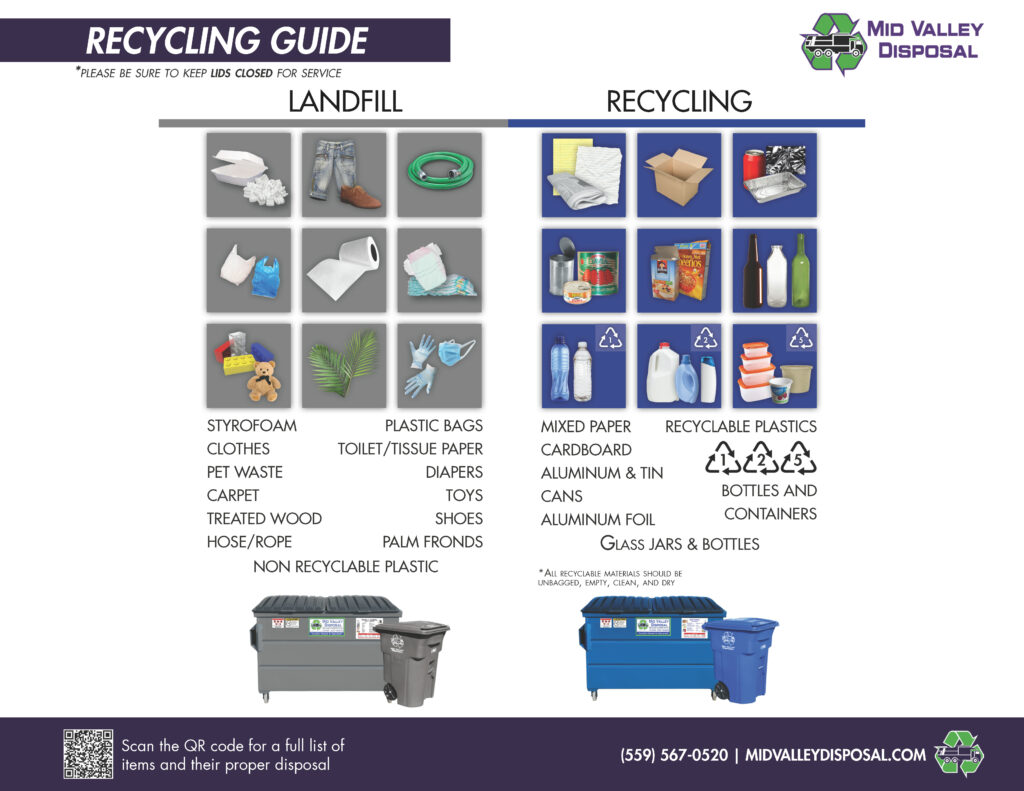 DO NOT DISPOSE OF HOT ASHES IN DISPOSAL CONTAINERS
DO NOT PLACE IN CONTAINERS:
State law prohibits the disposal of hazardous material into your containers. For proper disposal options, click here.
We also ask that you do not place bulky items, construction debris, electronic waste, or automotive parts in your containers. For bulky items disposal options, click here to go to intake forms.
The following is a list of items you should not place in your container:
Automotive Parts
Batteries
Cleaning Products
Construction & Demolition Waste
Fluorescent Light Bulbs or Tubes
Electronic Waste
LED Lights
Medical Waste
Paints, Solvents, and Thinners
Pesticides or Herbicides
Pharmaceuticals/Over–the-Counter Medicines
Pool Chemicals
Radiological Waste
Syringes or Sharps
Thermometers
Thermostats
Used Motor Oil
Electronic Waste Examples:
Electronics can include those devices that utilize electrical wiring, plug into an electric outlet, or take a battery or light bulb. Examples include (but are not limited to): computers and accessories, circuit boards, extension cords, flashlights, microwaves, phones, stereos, and televisions. To arrange for a pickup, click here.
Bulky Items
Bulky item collection is another form of temporary service that is provided by Mid Valley Disposal at a great low rate. Old or unused appliances, couches, mattresses, electronic waste, tires, or bagged trash that may be laying around your home. This service is provided at the convenience of our customers and removes the hassle of having to use a container or self-hauling your items to a location. To arrange for a pickup, click here.
Construction and Demolition:
Waste material generated during the construction, renovation or demolition of a building or structure cannot be placed in your curbside containers. California law requires that all nonhazardous construction and demolition waste be recycled and/or salvaged for reuse. The most common materials are: concrete, dirt, wood, drywall, asphalt shingles, and asphalt pavement. Mid Valley Disposal has roll-off bins in a variety of sizes to fit your construction and demolition disposal needs. To arrange for delivery of a roll off, click here.
Holiday Tree Recycling
Natural holiday trees are 100% recyclable!
Tips to ensure your tree is properly collected:
Remove stands, ornaments, lights, and tinsel.
Cut up your tree in half, or thirds, and place it in your yard waste container(s).
Trees with flocking or fire retardants ARE NOT acceptable. Cut them in half, or thirds, and place them in your trash container.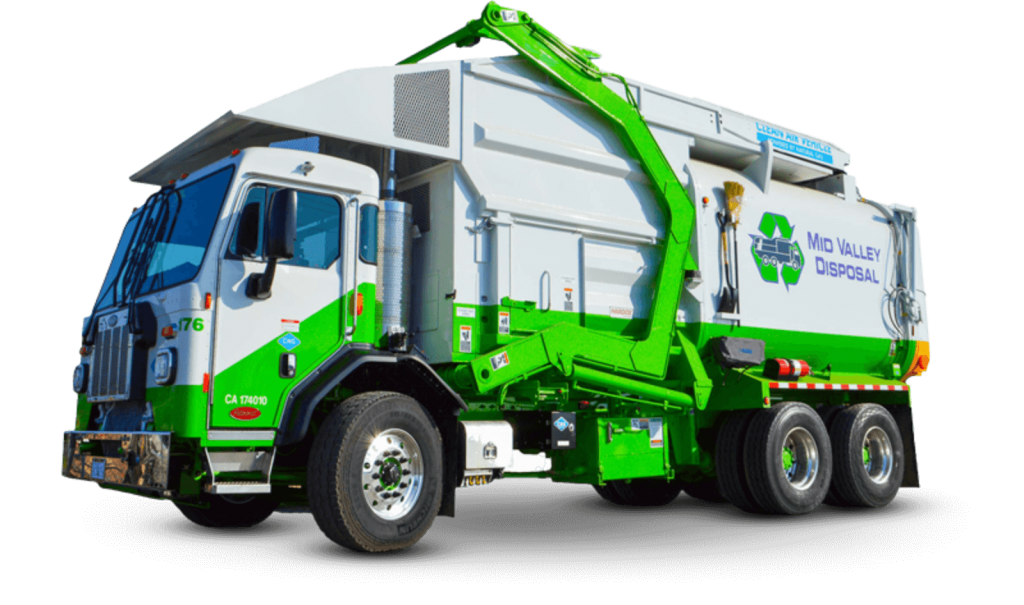 Need Assistance?
We have made it convenient for you to contact us about whatever question or request you may have.